Missing Iranian scientist at Pakistani embassy in Washington, D.C.;

Militants destroy another school in Bajaur Agency;

170 suspects arrested in Peshawar crackdown;

Militant commander killed in Lower Dir;

Security official killed in Orakzai Agency;

Explosion reported in Mohmand Agency;

Police arrest 39 suspect terrorists and 170 activists,

Crackdown on SSP in Punjab;

Punjab government establishes anti-terrorism board;

Indian and Pakistani foreign ministers to meet in Islamabad on Thursday;

Pakistan will not all Indian trade route to Afghanistan;

Five killed in Karachi violence.
Missing Iranian Scientist in Washington, D.C.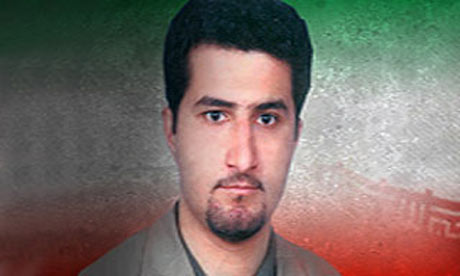 • A missing Iranian nuclear scientist has taken refuge at the Pakistani embassy in Washington, D.C. Shahram Amiri, a researcher at Iran's Atomic Energy Organization, disappeared last year during a religious pilgrimage to Saudi Arabia. Although Tehran claims that Amiri was kidnapped by the U.S. in a bid to undermine Iran's nuclear program, it remains unclear whether he willingly defected or was indeed kidnapped. As there are no diplomatic relations between Iran and the U.S., the Pakistani embassy in Washington hosts an Iranian interests branch, which provides visas for travel to Iran and other consular services for Iranians in the U.S. According to a Pakistani Foreign Office spokesperson, Amiri arrived at the Pakistani embassy around 6:30 pm on Monday.
[1]
also
[1A]
Punjab
• Police arrested at least 39 suspected terrorists – 20 from Multan and 19 from Lahore – and 170 activists on Tuesday as part of an expanded crackdown on banned militant groups in southern Punjab. According to reports from Rahimyar Khan, Bahawalpur, Bahawalnagar and Layyah district, police conducted nighttime raids targeting Sipah-e-Sahaba Pakistan (SSP) in Lahore, Multan, Sahiwal, Khanewal, Jhang, Bhakkar, Gujrat, Vehari, Rawalpindi and other cities. Police also closed 22 offices associated with SSP, which were operating under the alias Ahle Sunnat Wal Jamaat. In Bahawalpur district, six activists of the Sipah-e-Sahaba, Millat-e-Islami and Jaish-e-Muhammad have also been arrested.
[2]
• The Punjab government announced on Tuesday that it has established a new anti-terrorism board in order to combat terrorists operating throughout the province. The Chief Minister of Punjab, Shahbaz Sharif, was chosen to head the board that will include the provincial law minister, Inspector General, chief prosecutor, and home secretary. A committee was also established to coordinate intelligence gathering and sharing between various departments and the chief secretary, improve police performance, and manage a provincial awareness campaign.
FATA and Khyber Pakhtunkhwa
• Militants destroyed another government-run school in Khar Tehsil of Bajaur Agency on Monday. According to tribal sources, a group of militants detonated explosives placed throughout the Government Girls Primary School in Sheikh Baba Killay with a remote-controlled device. This is the 93rd school destroyed by militants so far in Bajaur. The building was empty at the time. Following the destruction of the school, security forces arrested several suspects from the area.
[3]
• At least 170 people were arrested on Tuesday during coordinated search operations in various parts of Peshawar, including Gul Bahar, Phandoo and Chamkanai. According to sources, police also seized 10 rifles, 10 AK-47s, 14 pistols, and 830 rounds of ammunitions during the operations. These arrests follow reports on Sunday that police arrested 410 suspects throughout the city.
[4]
• Security forces killed a key militant commander, Naseer Kakkar, during search operations in Lower Dir on Monday. Kakkar is believed to be responsible for ordering attacks in Lower Dir and masterminding last month's suicide attack in the area.
[5]
•A security official was killed and four others were wounded on Monday in a roadside bomb blast in Orakzai Agency. According to sources, security forces were on a routine patrol when their vehicle struck a landmine in Sangra, Lower Orakzai.
[6]
•Dawn News reported that an explosion occurred in Sarokoli in Mohmand Agency on Tuesday. There are no reported casualties at this time.
[7]
Pak-Indian Relations
•Indian Foreign Minister S.M. Krishra will meet with Pakistani Foreign Minister Shah Mehmood Qureshi on Thursday in Islamabad in a bid to restore trust and resume peace talks between the two countries. According to India's foreign ministry, the ministers will try "to work out the modalities of restoring trust and confidence in the relationship, thus paving the way for a substantive dialogue on issues of mutual concern." Meanwhile, the prime minister of Pakistan-administered Kashmir, Raja Farooq Haider, told reporters, "We reject the foreign ministers' talks on Thursday… The talks can be meaningful only if Kashmiris are made part of it." Diplomatic relations between India and Pakistan collapsed in 2008 after the 10 gunmen killed 166 people in attacks in India's financial capital, Mumbai.
[8]
•According to a report from The News, Pakistan will not allow an Indian trade route through Pakistan as part of the Pak-Afghan Transit Trade agreement despite pressure from Washington prior to Thursday's meetings in Islamabad. "There is no flexibility regarding allowing India to use land route through Pakistan for onward journey into Afghanistan. Trade between Pakistan and India is a bilateral issue and outside the scope of the Pak-Afghan Transit Trade Agreement," an official told The News.
[9]
•Targeted killings continue in Karachi as at least five people were killed by gunmen in separate incidents on Tuesday. According to sources, gunmen killed a doctor, affiliated with the Muttahida Qaumi Movement (MQM), standing outside his clinic in Al-Falah. In a separate incident, gunmen opened fire on a vehicle on Rashid Minhas road,, killing two people. A woman was also killed in Shershah and police recovered another body in Lyari.
[10]
-------------------------------------------------------------------------------------------------------------
Sources:
[1] Nasser Karimi, "Missing Iranian scientist surfaces in Washington," AFP, July 13, 2010. Available on
http://www.google.com/hostednews/ap/article/ALeqM5hMjU0wACQ2zOXzyTxJ64UzIB57TwD9GU5T600
"Iranian nuclear scientist turns up in D.C.," LA Timesm July 13, 2010. Available on
http://www.latimes.com/news/la-fg-nuclear-scientist-iran-20100714,0,6109882.story
"Shahram Amiri hiding in DC embassy, wants to return to Iran," Christian Science Monitor, July 13, 2010. Available on
http://www.csmonitor.com/World/terrorism-security/2010/0713/Shahram-Amiri-hiding-in-DC-embassy-wants-to-return-to-Iran?utm_source=feedburner&utm_medium=feed&utm_campaign=Feed%3A+feeds%2Fworld+%28Christian+Science+Monitor+|+World%29
[2] "39 suspects arrested during crackdown across Punjab," Daily Times, July 13, 2010. Available on
http://dailytimes.com.pk/default.asp?page=2010\07\13\story_13-7-2010_pg7_7
"22 SSP offices sealed, over 170 activists held," The News, July 13, 2010. Available on
http://www.thenews.com.pk/top_story_detail.asp?Id=29986
Abdul Manan, "Police widen hunt for militants," Express Tribune, July 13, 2010. Available on
http://tribune.com.pk/story/27500/police-widen-hunt-for-militants
[3] "Militants blow up 93rd school in Bajaur," The News, July 13, 2010. Available on
http://www.thenews.com.pk/daily_detail.asp?id=250503
[4] "Peshawar police round up 170 suspects," Express Tribune, July 13, 2010. Available on
http://tribune.com.pk/story/27564/peshawar-police-round-up-170-suspects/
"410 arrested in Peshawar search operation," Daily Times, July 13, 2010. Available on
http://dailytimes.com.pk/default.asp?page=2010\07\13\story_13-7-2010_pg7_10
[5] "Key militant commander killed in Lower Dir operation," Express Tribune, July 12, 2010. Available on
http://tribune.com.pk/story/27384/key-militant-commander-killed-in-lower-dir-operation/
[6] "Security official killed, four injured in Orakzai blast," Daily Times, July 13, 2010. Available on
http://dailytimes.com.pk/default.asp?page=2010\07\13\story_13-7-2010_pg7_6
[7] "Blast in Mohmand; no word on casualties," Dawn, July 13, 2010. Available on
http://www.dawn.com/wps/wcm/connect/dawn-content-library/dawn/news/pakistan/04-mohmand-blast--qs-02?utm_source=feedburner&utm_medium=feed&utm_campaign=Feed%3A+dawn%2Fnews%2Fpakistan+%28DAWN.COM+-+Pakistan+News%29
[8] "India, Pakistan to meet for trust-building talks," Dawn, July 13, 2010. Available on
http://www.dawn.com/wps/wcm/connect/dawn-content-library/dawn/news/world/14-india-pakistan-to-meet-for-trust-building-talks-zj-02?utm_source=feedburner&utm_medium=feed&utm_campaign=Feed%3A+dawn%2Fnews%2Fworld+%28DAWN.COM+-+World+News%29
http://tribune.com.pk/story/27531/pakistan-india-to-resume-talks/
"Kashmiris reject India, Pakistan talks," Dawn, July 13, 2010. Available on
http://www.dawn.com/wps/wcm/connect/dawn-content-library/dawn/news/world/kashmiris-reject-india-pakistan-talks-jd-01
[9] "Pakistan says no to Indo-Afghan trade via its routes," The News, July 13, 2010. Available on
http://www.thenews.com.pk/daily_detail.asp?id=250500
[10] "At least five killed in Karachi shootings," Dawn, July 13, 2010. Available on
http://www.dawn.com/wps/wcm/connect/dawn-content-library/dawn/news/pakistan/metropolitan/04-karachi-shootings-5-killed-qs-04
"Four killed in incidences of violence in Karachi," Express Tribune, July 13, 2010. Available on
http://tribune.com.pk/story/27561/four-killed-in-incidences-of-violence-in-karachi/
-------------------------------------------------------------------------------------------------------------